This tool is intended to help you maximize political and public support for and involvement in protecting drinking water sources.
Source water protection needs committed and engaged champions to be effective. Water suppliers and local governments can help people understand where their water comes from, why it needs protection, and what they can do to help. When people understand and care about a cause or are incentivized to act, they are empowered to get involved, and change often follows.
Community engagement can mean different things to different people in different parts of an organization (e.g. planning, community development and services, communications and marketing). This section does not argue for a particular definition. Instead it gives you general principles and best practices to consider when engaging the community in source water protection. According to the International Association for Public Participation, engagement happens on a continuum, starting with informing the community about what you are doing and ending with empowering them to make the final decision (see Table 11).
Table 11: Levels of community engagement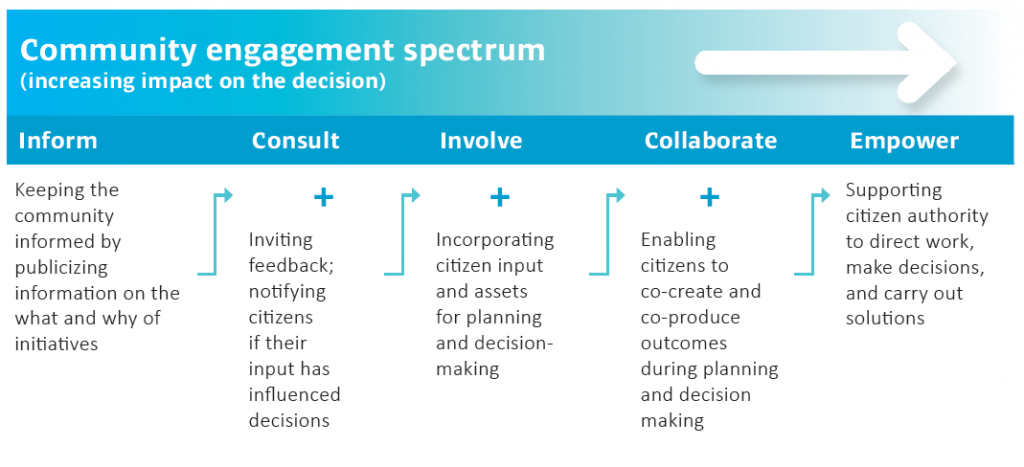 How to use this tool
Engagement of elected officials, upper management, and other decision-makers will look different than engagement of the broader community. They will be interested in seeing a business case that clearly articulates the value and benefits of source water protection, as well as the costs. Your business case will also be needed to secure funding for your source protection initiatives (see TOOL 2). Use the best practices in Table 12 to prepare your business case and refer to the American Water Works Association Source Water Protection Justification Toolkit for more information.
Table 12: How to build and deliver a business case for source water protection
---
Share the overall vision and short-and long-term goals for your program. If the business case focuses on a particular activity or set of activities be sure to emphasize that.
---
Draw attention to the cumulative environmental, social, and financial benefits brought on by source water protection.
These may include:
Public health protection
Improved water quantity and quality
Environmental stewardship and accountability
Habitat and ecosystem services protection
Enhanced aesthetic quality of the watershed, which can help increase property values
Potential for reduced treatment costs
Social benefits from collaboration and partnership-building
Enhanced regulatory compliance
Improved long-term management of natural infrastructure, such as forests
Improved preparedness and response capacity for emergency events
More robust data on watershed health, and opportunities for sharing that data
---
Present the actions/activities that you would like to carry out and show how each may positively and negatively impact stakeholders using quantitative and qualitative evidence (use that field data!).
---
Show the steps needed to carry out the actions/activities. Present a timeline, a budget with immediate and long-term costs, the funding options, and any barriers with solutions.
---
Keep the main message consistent across all audiences, but personalize it for individual audiences by emphasizing the information that is most relevant and making it meaningful in a real-world situation. If possible, conclude with examples of how the solutions succeeded elsewhere.
---
Pro Tip: Take your elected officials or other decision makers on watershed tours (where permitted) to help them see what happens in their watershed. Keep tour groups small and focused.
The methods you use to engage the broader community will depend on the source water protection challenges you are facing and the goals of your plan (see STEP 3 in ROADMAP to Source Protection for how to create your plan). Here is a list of some example subjects and audiences to help get you started:
Did you know this is a water resource? Generally targeted.
Source to Tap. Do you know where your water comes from? Generally targeted.
Leave light footprints. Targeted at upland watershed recreators.
Signage such as "If you notice questionable activities in our Community Watersheds, Report All Poachers and Polluters (RAPP) and violations to the Conservation Officer Service 24-hour hotline: 1-877-952-7277 or #7277 on the TELUS Mobility Network." Targeted at upland watershed recreators.
Naturalize your landscape. Targeted at riparian landowners.
Minimize stormwater contamination. Targeted at subdivisions.
Keep wakes down. Targeted at powerboat impacts on intakes.
Annual hands-on Watershed Day. Targeted at local schools and the community.
Driving forces – What is the pressing source water protection challenge? For example, is it impacts from forestry, ranching and/or recreation in the upper watersheds? Or potential contamination from stormwater in urban areas?
Goals – What is the broad focus of your effort?
Objectives – What actions will you take?
---
2. Identify target audience
Focus on discrete audiences to make implementing and evaluating your education program more manageable.
What motivates them? What is their knowledge of the issue?
---
Create a beneficial exchange between the audience and campaign objective using an action statement, rewards or incentives.
FRAME IT – to elicit the desired response
BRAND IT – use a consistent slogan or logo
HOOK IT – use something memorable (e.g., lighthearted humour, a jingle, a compelling question)
KEEP IT SIMPLE – to avoid diluting the core idea
---
Piggyback: Attach your message to the existing efforts of groups that relate to the target audience, be it through their newsletter or event.
Social diffusion and pressure: Link visuals to willing members of the audience to promote the desired source water protection actions (e.g., rainwater gardening, responsible motorized recreation) as the new norm. Aim for 15% adoption by willing members.
Personal contact: When appropriate, use phone calls or face-to-face methods. Connect with respected locals, organizations, or businesses who can directly spread the message to their peers.
Focus on shared values: Connect the dots on why source water protection should matter to people. Watch this TED talk The most important thing you can do to fight climate change: talk about it for tips.
Program delivery: If lack of resources poses a barrier to developing an outreach and education plan make use of already developed materials within the US EPAs Nonpoint Source Outreach Toolbox.
---
Evaluate your efforts and aim for continual improvement.
Evaluate the process, its impact, and context using water quality and core social metrics.
Table 13 describes a range of tools you can use for community engagement.
Table 13: Education and engagement tools and how to use them
---
Implementation ideas and examples
---
Social and traditional media
Create and maintain websites as well as Twitter, Instagram, and Facebook accounts to communicate important messages such as water quality notices, scheduled repairs, tips on how to protect water at home, or initiatives that require widespread community involvement. Advertise with local radio stations, on Spotify, or on a billboard.
---
Erect kiosks or signage that inform community members on how they can help protect source water at popular recreation sites, upon entering groundwater recharge zones, by upland reservoirs, at boat launches, or in areas of concern.
---
Letters and annual reports
Mail out letters to residents on lakeshores, in groundwater recharge areas, and on creek/riverfronts, informing them of ownership and responsibility, BMPs on how to keep pollutants out of source water, and initiatives that require their participation. Describe ongoing and planned source water protection efforts in annual reports and newsletters. Display an annual watershed protection fee on monthly bills.
---
Invite stakeholders who are impacted by proposed management actions or whose activities impact source water to participate in an educational workshop. Examples of groups to work with include: an Agricultural Advisory Committee on agricultural BMPs to reduce stormwater runoff and protect groundwater resources; the homebuilders association or construction association on BMPs for green infrastructure; the Okanagan Trail Riders Association and similar groups on responsible recreation; the BC Cattlemen's Association to implement the Farmland-Riparian Interface Stewardship Program; and local government officials on bylaws or policies that protect natural assets.
---
Provide curricula for teaching source water protection in junior, middle, and high schools, as well as water testing kits and information on in-class competitions to engage students. Or, contact your local school district and request time for dedicated source water protection staff to deliver a presentation on protecting the source water in their watershed, either at the school of through a tour of your water treatment facility.
---
Incorporate demonstration projects as part of a workshop. Host interactive tours in collaboration with owners of residential or commercial properties that use BMPs, including graywater and rainwater collection, treatment, and reuse systems, waterfront-friendly landscaping, exemplary farms, among others. Provide signage to promote these exemplary properties.
---
Pool resources with other water suppliers to form an outreach team that make use of existing efforts, such as OBWB, or form your own. Outreach teams can focus on bolstering public awareness and education. They can engage in direct interpersonal contact and are necessary for reaching out to folks who are not tuned into social or traditional media.
---
Fill data gaps in a cost-effective manner with citizen science. Identify data needs and local stewardship groups. Collaborate with organizations that facilitate community-based monitoring, such as Living Lakes Canada or Water Rangers, B.C. Lake Stewardship Society or B.C. Wetlands Institute, to train participants on standard-operating procedures for data collection and to develop agreements on data management. Acknowledge their contributions where applicable (e.g., reports, meetings). See citizenscience.gov and Developing a Citizen Science Program for implementation tips and considerations.
---
Be transparent with your plans; it will help gain support. Invite the community to public meetings on proposed management actions and funding mechanisms that may affect them. Notify senior government leaders, local residents, provincial governments, First Nations, industry professionals, and community groups.
---
For initiatives that require citizen-implemented BMPs, deploy staff to conduct property assessments for voluntary home and business participants. Solicit buy-in using the tools in Outreach and Education. Check-in programs can be developed to help you achieve goals in water consumption reduction, stormwater management, or other objectives that necessitate heavy community engagement.
---
Use financial rewards or social pressure to achieve objectives that necessitate significant community participation and financial expenditure. See the RDN's rebate programs for ideas. Further incentivize participation by asking citizens who've implemented source water protection BMPs to display signs, like Okanagan WaterWise, LakeSmart, or Environmental Farm Plan. Reward signs can inspire change at the community level, especially after 15% participation. The upper watersheds need help too; incentivize responsible behaviour by rewarding folks who report damage (see Community-Based-Monitoring in TOOL 8 – Monitoring and Reporting).
---
Identify ecological services in need of restoration or with heavy public use. Ecological services play an important role in source water protection. Stewardship activities ensure those services work for us, plus, they offer a tangible means for citizen involvement. Erect "Adopt Me" signs near those ecological services, informing people of where to seek further information on the program. Encourage interested citizens to choose adoption sites near their neighbourhoods, businesses, schools, or club meeting sites. Designate an area to work within, a minimum time requirement, and necessary tasks such as litter pickup, restoration and rehabilitation works, among others. Collaborate with organizations like Pacific Streamkeepers Federation to train groups on how to undertake rehabilitation activities. Supply the necessary equipment.
Case Studies
---
The City of Guelph, Canada's largest city that relies exclusively on groundwater for its drinking water supply, also has websites with information dedicated to different user groups, including one website…