Source water protection is a broad topic, with different purposes, responsibility, and resourcing needs at the local, regional and watershed-scale.
The Source Water Protection Toolkit was crafted to simplify the source protection planning process, and to inspire a more holistic approach to drinking water management – one where we work together to take care of the land so that it can take care of the water.
Download the Toolkit PDF, or follow the links to explore the Toolkit.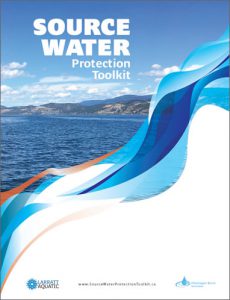 Download the Toolkit:
Download PDF (7Mb)
Explore the Toolkit:
Key Messages
A healthy watershed is central to clean and abundant source water.
Establishing setbacks, restoring riparian buffer zones along watercourses, and acquiring watershed segments can save money by preventing costly impacts to source water.
Roads often have the greatest impact on water quality, so they require careful long-term planning.
British Columbia legislation related to source water protection is complicated, and the Government of British Columbia does not have a lead water agency. Local action supported by stable funding and consistent and coordinated approaches is imperative to maintaining source water quality.
Collaboration is essential to protect source waters for today and for generations to come. Our collective efforts will bring cumulative benefits.
We are all downstream.
Introduction
Clean water – essential and irreplaceable
Drinking water is of paramount importance and concern to British Columbians, and rightly so. Water is central to everything in B.C. – the survival of plants and animals, the well-being of residents, the health of the economy, and the beauty of the natural landscapes. Watersheds and aquifers are wonderfully resilient systems, and will provide quality water for present and future generations if we look after them.
Water suppliers use a multi-barrier approach (MBA) – an integrated system of procedures, processes and tools that collectively prevent or reduce the contamination of drinking water from source to tap – to minimize risks to public health. The MBA includes selecting the best available water source and protecting it from contamination ('source water protection'), using effective water treatment, and preventing water quality deterioration in the distribution system. Coordinated and collaborative actions upstream of water treatment help communities not only effectively achieve drinking water goals, but also delivers cumulative socio-economic benefits and ecological services. This toolkit provides a road map and tools for source protection, and is intended for the local government, irrigation and improvement district, and First Nations staff who are responsible for providing drinking water to their communities in B.C.
It is important to acknowledge that local governments and water suppliers are operating in the traditional and unceded territories of Indigenous peoples. In the Okanagan, these are the Syilx/Okanagan Nation and the Splatsin territories. Water is a key aspect of reconciliation, and local governments can play an important role in building positive relationships with Indigenous communities based on mutual respect, understanding, and a common vision for the future. Source protection planning processes are strengthened when Indigenous values, knowledge, and leadership are included from the start. The siwɬkʷ (Water) Declaration can help local governments and water suppliers improve their cultural understanding and engagement with Indigenous peoples.
The Okanagan Nation Alliance also recently released their Syilx siwɬkʷ (Water) Strategy. The strategy is a call to action that outlines how the Syilx Nation intends to care for their territory and work to ensure that siwɬkʷ is properly respected and available for all living things.
This toolkit shows that the case is clear: water suppliers have an excellent opportunity to develop and carry out robust, watershed-scale source water protection programs. Most often, these programs are built from the ground up through locally driven initiatives with provincial government support, not the other way around. We can draw from the successes of others, and gain insight from their lessons learned. The benefits of source water protection start immediately, and the long-term dividends are vast.
Let's get started.
Syilx/Okanagan Nation siwɬkʷ (Water) Declaration
The following is an excerpt from the siwɬkʷ (Water) Declaration. Click here for the full version of the declaration.
siwɬkʷ is a part of us and a part of all life.

siwɬkʷ must be treated with reverence and respect. Our relationship with siwɬkʷ is not taken lightly; we are responsible to ensure that our relation can continue to maintain the health and resiliency of our tmxw ulaxw and timixw.

siwɬkʷ is the lifeblood of our tmxw ulaxw and our timixw and we as Syilx People recognize siwɬkʷ as a sacred entity and relative that connects all life.

siwɬkʷ comes in many forms and all are needed for the health of tmxw ulaxw and for the timixw.

siwɬkʷ is our most sacred medicine: siwɬkʷ nourishes, replenishes, cleanses, and heals. Any use of siwɬkʷ should be an act of reverence and a commitment to our responsibilities to all life: now and to come, as Syilx People.

siwɬkʷ comes from the sky and the highest places yet it never willfully rises above anything. It will always take the lowest path in its humility, yet of all the elements, it is the most powerful.

Our sacred siwɬkʷ water teaches us that we have great strength to transform even the tallest mountain while being gentle, soft, and flexible.

siwɬkʷ will always find a way around obstructions: under, over and through. It teaches us that anything is possible.

siwɬkʷ movements, pathways, resiliency and power teach us who we are and who we can be as people.
Purpose of the Toolkit
Source water protection is a broad topic, with different purposes, responsibility, and resourcing needs at the local, regional and watershed-scale.
This toolkit was crafted to simplify the source protection planning process, and to inspire a more holistic approach to drinking water management – one where we work together to take care of the land so that it can take care of the water.
Water suppliers in the Okanagan and beyond have taken important steps towards improving drinking water quality over the last 20 years. While enhanced treatment, staff training, monitoring, and reporting have reduced outbreaks, upstream source water protection measures must be added to these actions to meet existing and expected challenges to drinking water quality.
Best management practices and policies that better protect drinking water are already being used in logging, ranching, and recreation, as well as by governments at the provincial, regional, and municipal levels.
Nonetheless, more action is required throughout B.C.'s watersheds, from the headwaters in the mountains, to rural and urban areas, and down to the mainstem lakes. A coordinated, collaborative, and consistent approach is needed.
This toolkit is your guide to getting there.
How to Use this Toolkit
Good news – you don't have to read the whole toolkit!
Each section is stand-alone. Refer to Table 1 to see what sections interest you.
Table 1: Guide for using the Source Water Protection Toolkit
If You…
Are:
A water supplier
A planner
An elected official
For:
What to do to protect drinking water sources and how to do it
Regulatory tools that you can use to protect drinking water
Why you should buy in – the economics of why it makes sense
Your responsibilities for source water protection
---
Need to:
Complete a source water assessment
Build a response plan
Improve your plan, address threats to your supply system
The 5 main steps to follow to develop and carry out a source protection plan
Best practices and case studies to help you carry out your plan
---
Lack:
Finances
Capacity or knowledge

Political or community support
How to:
Generate short- and long-term funding

Build relationships, share resources and workloads
Leverage community assets to alleviate resource gaps
Collect, find, and use data

Inform audiences on the economic value and cumulative benefits of source protection
---
Need to:
Overcome jurisdictional barriers
Understand jurisdiction
A list of stakeholders and authorities to work with and best practices for how to do it

A breakdown of responsibilities and a list of Acts that involve drinking water protection
---
Need to:
Improve communication,
coordination, and
collaboration
Tips on connecting with audiences
BMPs on how to advance source protection despite varying interests
---
Want to:
Read success stories
Get started:
The Roadmap describes the steps to help you get started or continue your source protection journey, from bringing partners together, completing a source water assessment, preparing a response plan, and putting the response plan into action, to evaluating your source protection plan.
The Tools are the core elements to aid you in a successful source protection plan. Each tool provides information on its importance, the actions needed to implement it, its opportunities and challenges, and case studies of successful implementation. Use and combine the tools that apply to your situation. Also beneficial for improving on existing source protection efforts.
Explore all Case Studies, filter by tool or search by keyword.
Here, you'll learn more about the regulatory regime in B.C., the economic benefits of source water protection, and the top obstacles to source water protection and innovations to overcome them.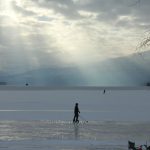 "Local action supported by stable funding and consistent and coordinated approaches is imperative to maintaining source water quality."

— Source Water Protection Toolkit
---